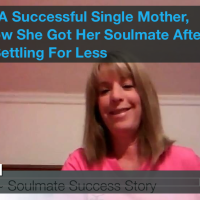 Today a single-Mother who had been settling for less in relationships for over thirty years tells us how she broke through the pattern and found the right man!
JaneAnn is a successful business owner who still couldn't find the right man. Watch this successful single mom share how getting coached attracted the right man and changed her life.
Click the video below to watch:
JaneAnn, Winnebago IL – Business Owner, Mother, and Soulmate Success Story
If you'd like to be the next Soulmate Success Story sign up to watch my upcoming free webinar and get a chance to talk to me! Click here: http://DateMenNotBoys.com
Much Love,
Barry
p.s. – If you've already decided you're ready for a coach's support, reach out to me immediately for a conversation at http://www.datemennotboys.com/apply (Due to time limitations I am only able to accept 25% of applications).
Tags: attract, attraction, barry paul price, best places, businesswoman, busy, coaching, dating, dating coach, dating mentor, dating program, finding men, intimacy, love, man, mindset, Mom, program, putting my needs first, right man, self-acceptance, self-esteem, self-love, soulmate, testimonial, video