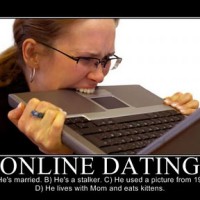 Honestly, I've never liked the idea of online dating. To me, all the time, energy and emotion expended in online dating only results in finally getting to a face-to-face meeting. That's like starting a race ten yards behind the start line. Why not just start with face-to-face meeting to begin with? Ladies, when you focus on being the ultimate version of yourself, and your life with your dating goals, you inevitably begin attracting your ideal guy… sometimes in multiples! I had one client who worked with me to describe her ideal man as an adult who was financially self-supporting, owned a house and car, had a great job and could communicate his emotions. She had never dated a guy like that before, despite using online dating websites for years. We aligned her life with her dating goals using a coaching tool called the Nine Environments, and began shifting things very quickly. Within three weeks she had a date with a man who was everything she had described! She was so nervous to actually go on a date with her ideal man for the first time, though, that she didn't act like herself. Things went poorly. She was discouraged, but some coaching helped her see the lesson in the experience. Less than a week later a SECOND ideal guy showed up, with everything on her list, and they started an emotionally meaningful relationship.
Could this have happened online? Actually, it did, but first she focused on improving her real life offline. Online dates can become a quick, easy substitute for dealing with fixing our issues that are blocking us from love and dating success. In this techno-culture of immediate gratification it's easy to simply click the button on a failed date and say "Next!", because there are 10 million more men to choose from at your fingertips. This fills your dating calendar but leaves your love life empty. Real joy and progress comes from slowing down the dating cycle, and living more in the real world's dating discomfort than in the distraction of online sites holding the next potential Mr. Right to make you forget why all the past relationships failed.
I'll bet this isn't a truth many of you are excited to hear. Would you rather I lie to you? Tell you that you'll find your soul mate  by dating high volumes of men who have very low investment in you because they are dating high volumes of women? I spoke to a buddy recently who says he wants love, but can't stop grazing the online dating pastures because "It's too easy to find women to hook up with casually." He meets a need for immediate connection, company, and often sex, by living through online dating hook-ups instead of the discomfort of looking at what's going wrong with his dates and relationships.
Next. Next. Next.
It's ironic and counter-intuitive but the big reason online dating can create loneliness is the mentality that there are SO MANY people available through it. This shifts the focus from changing yourself, to finding a quick fix, a magic, external solution to your unmet needs.
So CAN you online date in a healthy way? YES. If you follow three rules:
Work on YOU first. This is the core of my work with dating-mentoring clients. We lay a foundation that makes you irresistibly magnetic to your ideal man.
Do not spend too much time or energy on online dating. Have a clear goal for it, and see it as part of the bigger dating picture, not the WHOLE picture. Match.com can be a tool in your dating toolbox, but it is not the answer to all your dating problems. Work with your dating mentor to create a dating plan, including how and when to transition men offline once you have built rapport and trust.
Set clear expectations that sex will not be happening with these guys until and unless a real committed relationship develops in real life. First you need to set these expectations in your own mind, then you need to communicate them at the appropriate time. Don't ever trade sexual enticement for keeping a man's interest, online or offline. It never ends well.
Times online dating can be useful are under special circumstances. You live somewhere with very few men. You have special needs, like being handicapped, in a very small religious group which only allows dating within that religion, you are in an age bracket that does not match the population around you. If you go online, Match.com had the highest success rates for facilitating meaningful relationships, but think of it as an online farmer's marketplace for daters. We show up and browse for something we want. You still have to show up your best, and shop selectively to have success. A dating mentor will show you how to put your best foot forward with tips and strategies to make you stand out from other women. No one wants to buy the bruised, droopy veggies that don't look their best. Focus on being your best, and you'll stand out in the marketplace! Similarly, don't just buy any old piece of fruit. See if the guys you encounter have high-quality characteristics, both inside and outside. Quality over quantity, always.
If you keep a few of these tips in mind, you can certainly add to your dating pool online. But why dip in a virtual online pool when you could swim in the expansive ocean of your real, daily life? Build the life you love around you every day, and the love of your life will show up.
Don't go it alone. To begin building the life you love today, and see if a dating mentor is right for you, email the subject line "DATING FIX" to Barry@BarryPaulPrice.com for your no-obligation 15 minute dating assessment call.