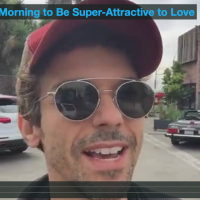 Here's a fast and easy way to be super-attractive to love!
It starts with making a SIMPLE change — one action you can take every morning to supercharge your attraction levels to love.
Check this out and promise me you'll try it for one week to see the difference – you'll thank me for it. I want you to feel loved!
Click the video below to watch:
Much Love!
Barry
p.s – if you want to catch my LIVESTREAMS on Facebook go here to tune in live online https://www.facebook.com/Barry-Paul-Price-250734444953840/ (To get an alert when I go live, make sure you LIKE the page and Turn Notifications On)
Tags: attract, attraction, barry paul price, best tips, best tool, coaching, community, counselor, dating, dating coach, dating mentor, dating program, fast, first date, great men, intimacy, love, man, mindset, Mom, morning, offline, one tip, online dating, phd, program, quick, right man, ritual, self-acceptance, self-esteem, self-love, soulmate, video